Ice/Weather Condition Updates
March 2, 2022
Outdoor ice skating is closed for the season.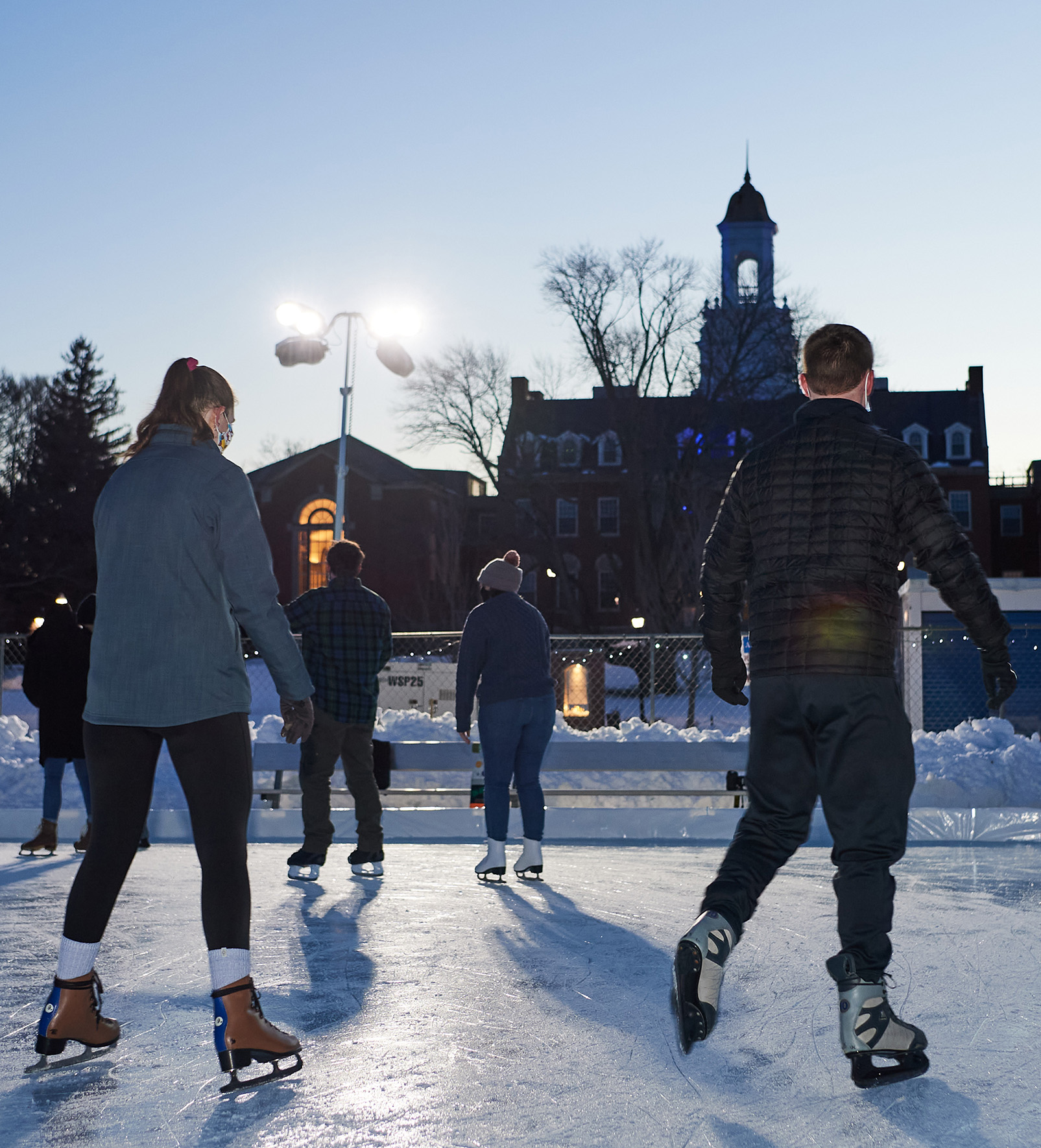 Skating Hours
*Check back daily for added skate times or cancelled skate times. The sunshine and rain have made our ice conditions unpredictable, so we are trying to add days when the ice is ready to skate!





On the Great Lawn, Storrs Campus
*Ice skating is dependent on weather and ice conditions.
*Ice skates are available for free.
*Open to UConn Students only.
*UConn Student ID required.
*Scan the QR Code upon arrival to sign the Acknowledgement of Risk form.
*Skating begins on the hour. You do not need to participate for the full hour.
*There will be no sign-ups.
*Skaters will be rotated through as capacity allows.

General Rules
STAY OFF THE ICE outside of posted open skate hours.
Scan the QR Code upon arrival to sign the Acknowledgement of Risk form.
There may be a wait when arrive, dress appropriately and know you will be given time to skate.
Skate within your comfort zone and be mindful of your time on the rink so everyone can enjoy skating.
Organized practices and games are not currently allowed
No food or drink is allowed on the ice at any time.
Intoxicated individuals will not be permitted on the ice.
Do not walk on the ice with shoes, boots, etc. Salt on your boots and shoes will impact the ice conditions and safety of skaters.
Prohibited: Tag, racing, "keep away" games, snowball throwing, and any activity that puts others at risk.
Skate At Your Own Risk
Skate at your own risk and user assumes all risk associated with ice skating on this ice rink.

Hockey helmets, ski helmets, or bike helmets are HIGHLY recommended for all skaters.

No games, no pucks, no sticks permitted on the ice.
Ice Skating & Covid-19
Stay home if you have any of the following symptoms: Cough shortness of breath or difficulty breathing, fever, chills, muscle aches, headache, body aches, vomiting, diarrhea, new loss of taste or smell.

Masks must be worn at all times.

Skates will be sanitized between each use.

You will enter and exit the rink from the same location, as another group will be getting ready as you are exiting.  Please keep social distance.

Please keep social distance.
Bathroom access is in the Austin Building.
Dept & Student Org Skating Info
Stay tuned for information on Department and Student Org skating sign ups.